Turkmenistan is famous for its caves. The most known of them are the Karlyuk caves. They are located on the slope of Kugitangtau Ridge and are considered unique natural sanctuaries, the are equal to none in entire Eurasia; they are by right included in the List of the World Legacy of UNESCO.
The Karlyuk caves are typical representation of various karst forms. There have been found around 60 caves with total length of 50 km, with galleries, passages, halls, labyrinths.
The caves are rich in wandering formations of plaster, calcite, aragonite in the form of stalactites, stalagmites, stone curtains etc. A lot of caves have not been explored yet.
Kov-Ata Cave is unique due to its hydrosulphuric lake. The cave is well-known as an inhabitation of the largest colony of bats.
Lakes and Springs
Lake Sarakamysh is the largest lake of Turkmenistan. Its area exceeds 2, 200 km. Sarakamysh natural reserve was made for protection of water fowl - pelicans, cormorants and coots. The well-known Bakharden Cave hosts an underground.
Lake Kow-Ata. Its area is 1, 050 square meters, average depth - 6 m, and temperature of water +33...+37°C. The water there is distinguished by surprising purity and transparency.

Lake Mollagara is a not drying saline. The water there is so salty that the human body is pushed onto the surface. The depth of the lake varies from 60 m up to 1.5 km depending on the season. There are located the world's famous therapeutic mud-baths.

Lake Yuazkhan is a closed freshwater lake in the Kara Kum Desert. There valuable breeds of fishes and water fowl found their home.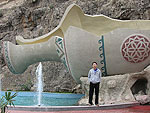 Lakes Archman, Berzengi, Bakharden are thermal springs of mineral hydrosulphuric groundwater. The latter are considered unique world famous natural landmarks. 60 m below Kov-Ata cave entrance there is a warm hydrosulphuric lake of 72 m length and 30 m width, with the area of 108 square meters. The average depth is 10 m. The water temperature is +37 ° С. The lake is very attractive due to its turquoise water and therapeutic properties.

Crater Lake Rozoviy (Pink) Porsyghel is of mud-volcanic origin. It is known mainly due to the fact that its pink colored waters cover the conduit of the ancient mud volcano. Not far from it on the western slopes of Chokrak plateau there is Crater Lake Zapadniy (Western) Porsyghel with salty and hot water of dirty-grey color. Truly amazing are such thermal sources as Archman,Parkhai,Ovezbaba, Khodzhakainar and sub thermal spring Edzheri.

One of the most beautiful waterfalls of the country is the Bolshoi (Big) Nokhur waterfall. The water is falling from 30 m height. Equally beautiful are the Koshtemir, Umbadere and Kyrkghyz waterfalls. There are other waterfalls in the north part of the country, for example, the Kyrkdeshk Rapids with a canyon to the north of Lake Sarykamysh.

Mount Bayuadag hosts about 40 hot, warm and cold springs with various water formulas.

Kara Bogaz Gol is a huge sea basin stretching to the north and the west. In one of gorges of Sumbar Valley is located a picturesque Gochdemir waterfall with crystal-like waters falling like shimmering openwork curtain.
Volcanos
In the west of Turkmenistan there are about 30 mud volcanoes. They are of various forms and exteriors. Periodically they throw up a mixture of mud masses, gases, waters and oil on the surface. The biggest volcano is called Aligul (extinct). The most ancient is the Boyadag mud volcano
Depressions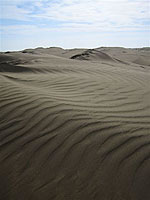 Yueroilan-duz is a deep drainless depression (total area 300 square km). During ancient times this place was occupied by the huge Tetis Sea. This unique depression was formed on the place of the volcanic centers which used to be active on the sea bottom. The dome-shaped and slightly extended hills representing extinct volcanoes conduits are fancifully scattered; between the hills there are solonchaks where table salt was mined. The beautiful andesite-basalt formations and weathered volcanic pillars tower there
In spring and in winter the depression is filled with melted waters forming a saline. During this period pelicans, flamingoes and other birds flock in this area. In summer after the water is vaporized the even solonchak is formed attractive to goitered gazelles and argalis. Yeroilan-duz Depression is a rich natural museum with traces of extinct Central Asian plants. The scientists found there ostrich eggshell pieces, the fragments of ancient animals frames and many other artifacts. This area have been attractive for geologists, archeologists, paleobotanists for many years..

Akchakaya is the deepest drainless depression located near the city of Tashauz. Its bottom is 81 cm below the World Ocean level (!). Its slopes, which can reach as high as 200 m, with giant multicolored steps are densely cut by water streams creating this unique sight.
Tracts and Gorges
Kyrkdzhulby is a tract in the Kara Kum Desert. Its special beauty is created by high steep barchans and bright - reddish - ground shade.
Archabil Gorge is a 10 km narrow intermountain valley with a picturesque natural park on the shores of Firjuzinka - a small mountain stream.

Mergenishan Gorge located along the southeast coast of Lake Sarykamysh is a flat bottomed winding canyon of 15 to 70 m in width and up to 35 m steep walls. The gorge was formed in the end of the 13th century as a result of water evacuation from Lake Tyunyuklyu to Lake Sarykamysh via the flat plain.
Kara Kum Desert
Barchans the Kara Kum sands occupy 7 % of flat territories and are a characteristic form of sandy relief. They occur in places lacking of vegetation.
The Karakum is a sand desert stretching for 350,000 km2 from the Caspian Sea to Pamir foothills and from Amu Darya to Kopet Dag ridge. Its name is translated as "black sands" ("kara" - black, "kum" - sand). The dessert corresponds to its gloomy name, because some of its parts were previously completely waterless for hundreds of kilometers, and anyone who tried to cross it, found a terrible death under the scorching sun of Asia.
Structurally, the Karakum is a rugged plain with sand ridges and dunes connected with small salt marshes and takyrs. It is divided into the Zaunguz Karakum, located on a plateau, the Central Karakum, spread in the lowlands, and South-Eastern Karakum, gradually developing into the Kugitangtau foothills.
There is practically no surface water in the form of oases, but large volumes of groundwater, hidden beneath the sands, has a discharge through dug wells. Besides, the desert is crossed by the huge Karakum Canal, which takes water from the Amu Darya and carries it away almost for 1,000 km to the desert. In addition, in the south, there are several rivers flowing down from the mountains and dissolving in the sands.
The Karakum climate is very severe. Summer temperature can reach +50°С, while the soil can run hot as high as +80°С. Winter features strong frosts up to -30°С. Rainfall is very scanty, and precipitates mainly in November and April.
Flora is represented by the sand sedge, acacia, saksaul, and in spring, by grasses and flowers which cover huge areas, except for dunes, and completely dry up by May. Fauna of the Karakum desert includes gazelles, foxes, wolves, various rodents, lizards, snakes and insects. Besides the wildlife, grassland farming to raise sheep and camels is also common there.
Plains and Plateaus
Missirian Plain. The remains of large ancient irrigated areas with traces of ancient irrigational structures have survived there.
Khodzha-i-Pihl Plateau of Kugitangtau ridge is known worldwide due to its nearly 1,000 well preserved traces of ancient pangolins - dinosaurs of Jurassic period. All in all there are about 1.5 dozen various traces from 30 to 92 cm in length. The most unique are the dinosaur traces found on the western slope of the Kugitangtau ridge. There on the limestone surface aged about 140 million years (Jurassic period) one can see around 500 traces of dinosaurs. This quantity and variety of dinosaur traces is the richest in the world.

Kaplnkir or Tigrovoye (Tiger) Plateau (near to Ashgabat) is the most beautiful place for walking tours across Turkmenistan.

Chinki Plateau Ustyurt. A historical place with lengthy (up to 40 m) ledges abundant in vertical steeps and well saved grottoes and caves bearing traces ancient people activities
Flora
Flora of Turkmenistan is made of relic forests, subtropics with a set of rare plants, picturesque nooks with preserved centuries-old vegetation
More than 2.5 thousand plant species grow on the territory of Turkmenistan including about 700 ones in the Kara Kum Desert. Among the most precious plants is 2,000-thousand-old juniper (Turkmen archa) growing on inaccessible tops of the Kopet Dagh. The unique country's grove called Unabi (Kugitang) has the trees whose age exceeds 200 years.
In Karakala, in Ajdere gorge grows the well-known 500-year-old Shakhoz (King of Nuts). Another unique nut grove is located in Ipaikala. Another attraction is the pistachio savanna Badkhyza with century-old trees on Kugitang. The savanna is unsurpassed in its beauty and rarity. In the foothills of the Kopet-Dagh grow about 1,700 kinds of plants - this is the largest "collection" in Central Asia.
The desert flora is represented by the oldest black saxaul which has survived in Yeradzhin natural reserve.
Reserves and Resorts
Turkmenistan has several major reserves: Badkhyz, Repetek, Krasnovodsky and Kugitang. Ther is also a considerable number of resorts: climatic health resorts Firyuza and Bairam-Ali; balneological - Archman and Mollakara. They provide efficient treatment and prophylactics of many diseases
Balneological sanatorium "Turkmenbashi" is in the southeast part of Turkmenistan in Bairamali (360 km from Ashgabat). It is a great place for people with kidneys and heart problems. Mollagara resort is a unique balneary in the west of Turkmenistan.

"Archman" is a climatic-balneological resort in the foothills of Kopet Dagh (130 km from Ashgabat). This place has been known for its radonic mineral waters.

Near Ashgabat in a mountain gorge are located recreational areas Archabil and Gokdere where you can experience mountain climbing, horse-riding and picnics.